TRX Surges 10% as Top Ethereum Gaming dApp Switches to Tron
The depths of a bear market has not quelled the appetite for blockchain gaming as the nascent industry comes along leaps and bounds. Ethereum was once the only platform for gaming dApps but Tron is rapidly catching up.
EtherGoo Heads to Tron
Ever since the CryptoKitties craze took over Ethereum's blockchain back in early December 2017 there have been a slew of new crypto based games in an ever expanding network. Ethereum's scalability conundrum was highlighted when the network slowed to a snail's pace and new platforms such as Tron emerged to solve this problem.
According to a medium post today, one of the top gaming dApps on Ethereum has now moved over to Tron. EtherGoo was the first competitive idle game using the blockchain and it toppled those digital moggies as the top gaming dApp in terms of daily active users and transaction volume shortly after launch.
The article elaborates stating that the Tron Shrimp team, previously veterans in the ETH development scene, has released the dApp, now called TronGoo, on the Tron network;
"The TRON network and the TRON Arcade fund will always welcome developers with open arms. We're confident that working together will allow our technology and communities to fuel the next wave of innovation and adoption. The EtherGoo and TRON Shrimp devs have produced hit DApps on multiple blockchains and we hope their creations will bring joy to the TRON community."
The game itself is pretty rudimentary as is the case with most blockchain games, players gather Goo to earn TRX (previously ETH). According to Dappradar the top ETH game at the moment is My Crypto Heroes with 2,400 daily users whereas the Tron Network has something called Fishing Master Studio which has 3,300 daily users. Gambling games are by far the most popular however and Tron has already surpassed Ethereum for dApp transaction volumes.
TRX Price Reaction
TRX is currently one of the top performing tokens at the time of writing with an 11.5% jump on the day from $0.0200 to $0.0223. Daily volume has also surged from $110 million to over $180 million, with Bit-Z and Binance taking the lion's share of it. Over the past week TRX has made 9% and since the same time last month it is up almost 55%.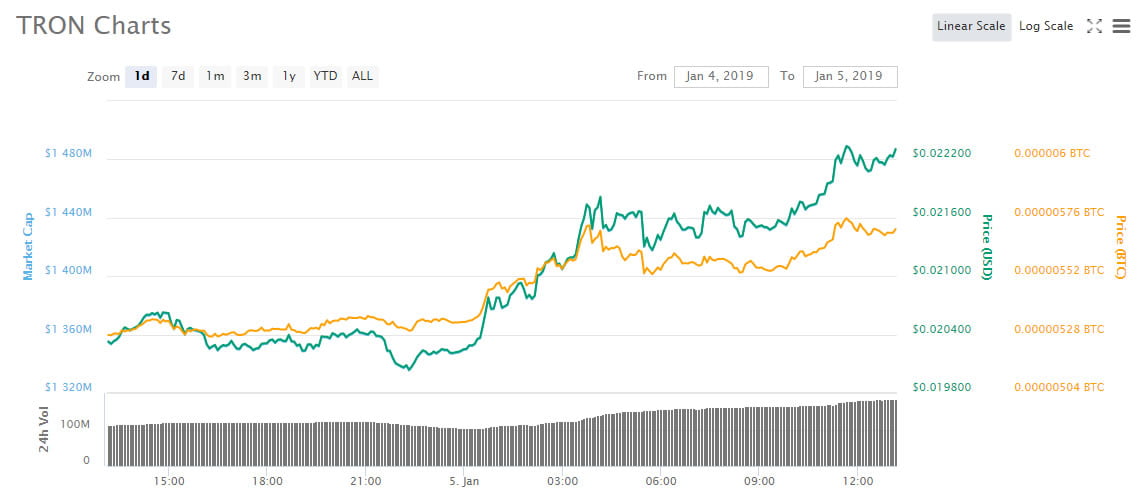 The gaming defection maybe driving part of the momentum but it will also be coming from the inclusion of the Tron powered BitTorrent token BTT on Binance's LaunchPad. Analysts predict that TRX could easily reach $0.040 if the current bullish trend continues and the team keeps on developing and expanding.